Introduction to Custom Feather Flags
In the dynamic world of advertising and brand promotion, custom feather flags have emerged as a powerful tool. Their unique shape and eye-catching designs make them impossible to ignore, whether fluttering in the breeze at a bustling trade show or marking the entrance of a trendy new café.

These cheap feather flag banners offer businesses a visually compelling medium to convey their messages and draw in customers. Unlike traditional banners, feather flags combine the elegance of movement with the clarity of design, making them an ideal choice for companies looking to boost visibility and sales.
Understanding Feather Flags
The Historical Perspective and Advantages
Feather flags, also known as feather banners, are not a new concept. Their history dates back to times when they were used as symbols in military and ceremonial contexts. Today, their applications have evolved to serve as dynamic marketing tools. The key advantages of feather flags include:
Balanced Shape: The design of feather flags strikes a perfect balance between straight and curved lines, offering a classic yet visually interesting look. This blend makes them more appealing than the strictly linear design of straight and edge flags or the overly curved teardrop flags.
Slight Movement: One of the distinctive features of feather flags is their gentle fluttering in the wind. This movement makes them more dynamic compared to more rigid flags, capturing the attention of passersby without obscuring the message.
Sleek Appearance: Feather flags boast a sleek and sophisticated appearance. This quality makes them versatile, suitable for businesses aiming for either a refined or a playful advertising style.
Design Basics for Feather Flags
Key Components and Readability
Designing an effective feather flag requires understanding its key components:
Bleed Line and Design Space: The bleed line is crucial in the design process, ensuring that essential graphics and text remain visible. The design space, typically highlighted in templates, guides where to place your core message and graphics.
Sleeve Color: The sleeve color can be a subtle yet impactful choice, usually available in standard options like black or white.
Orientation and Text Placement: Given the tall and narrow structure of feather flags, it's important to align the text along the long edge. This sideways orientation is surprisingly effective and readable.
Text and Visibility
Adding text to your custom feather flag design is an art. It should be concise enough to be read at a glance, and the layout should be straightforward. For larger flags, horizontal text orientation may be possible.
Color Selection
Choosing the right colors is critical. Your aim should be to make the flag visible and readable from a distance, using bright colors and adding shadow strokes if necessary.
Customization Techniques
Making Your Flag Stand Out
The heart of an effective custom feather flag lies in its customization. Here are some techniques to ensure your flag not only stands out but also resonates with your brand:
Graphic Inclusions: Decide whether to use bold text for a minimal look or include a small graphic, perhaps at the curved tip or bottom of the flag. Another approach is to make a graphic the main feature of your flag, which works well when paired with a text-focused companion flag.
Single-Sided vs. Double-Sided Printing: Choose between single-sided printing, where the design bleeds through to the other side, or double-sided printing for more opaque and clear visibility from both sides.
Versatile Uses in Various Settings
Feather flags are not just versatile in design but also in their application. Here are a few scenarios where they shine:
Outdoor Events: Their bright colors and movement make them ideal for outdoor events like fairs and community gatherings.
Trade Shows: Stand out in a sea of booths with feather flags that complement your other displays.
Business Entrances: Use them to guide customers to your location, especially if your business is in a crowded or competitive area.
Out-of-Home Advertising: They are excellent for roadside advertising, offering a dynamic alternative to static billboards.
Material and Durability Considerations
Choosing the Right Fabric and Care
When designing a feather flag, material choice is crucial. Opt for UV-resistant ink and outdoor-durable polyester fabric to ensure longevity. These materials are not only robust but also lightweight and easy to transport. Additionally, many flags are now machine washable, allowing them to retain a clean, professional look even after extended outdoor use.
Installation and Size Options
Finding the Perfect Fit and Location
Installation is a key consideration. Whether you need a ground stake for outdoor use or a cross stand base for indoor settings, the right base will keep your flag steady and prominent. Feather flags come in various sizes, and choosing the right one depends on your specific needs and the space available. Common sizes range from 6ft x 2ft to 15ft x 3ft.
Customization Options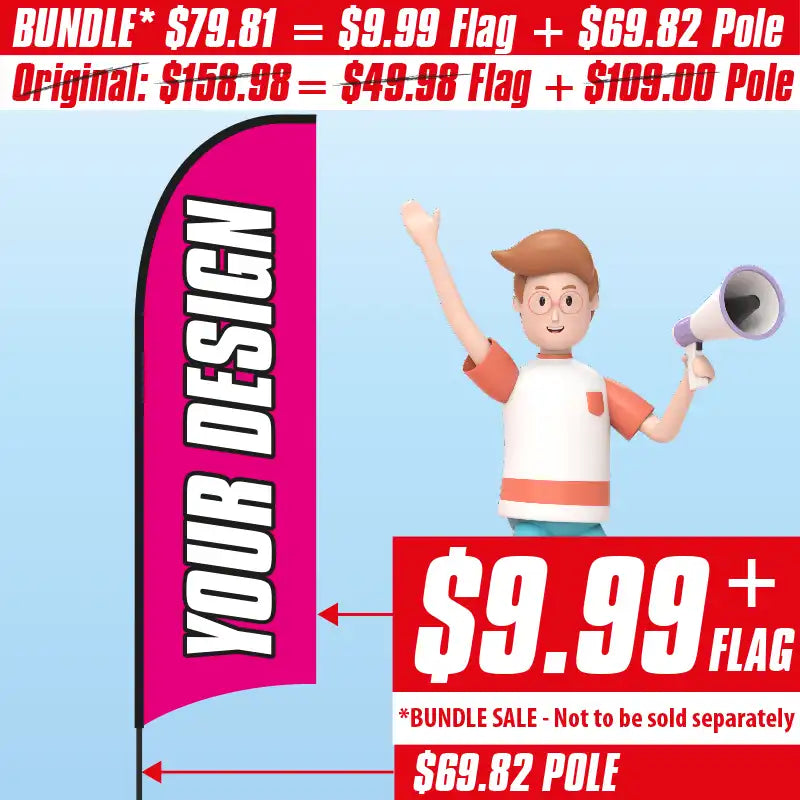 Personalizing to Match Your Brand
Further customize your feather flags by choosing pole pocket colors that align with your business's style and colors. This minor detail can have a significant impact on the overall look and feel of your flag.
Conclusion: Maximizing Impact with Custom Feather Flags
In conclusion, custom feather flags offer a unique blend of visibility, versatility, and vibrancy, making them an invaluable tool in any marketer's arsenal. By paying attention to design elements, material choices, and installation options, you can create flags that not only attract attention but also leave a lasting impression. featherflags.us is one of the Best Feather Flags wholesale source in US.
Additional Resources and References